Summer Comedy 2022 Starts June 27!!! most students join us for two to four weeks. But every week is a self-contained unit and a rare few will even join us all ten weeks every summer.
Check menu links for additional shows and classes live from Times Square NYC.
EMAIL for more information regarding private shows, classes, residency and professional development for teachers/staff.
Each week is a self contained session with classes in improv and stand-up comedy.
Monday starts with a master class in Improv Comedy, introducing a number of warm-up, technique and performance games. Then we move into an open-mic style session where students develop original stand-comedy routines, starting with personal stories of observation and experience.
Tuesday – Thursday are more like rehearsals than classes. A series of mock performance sessions develop experienced performers.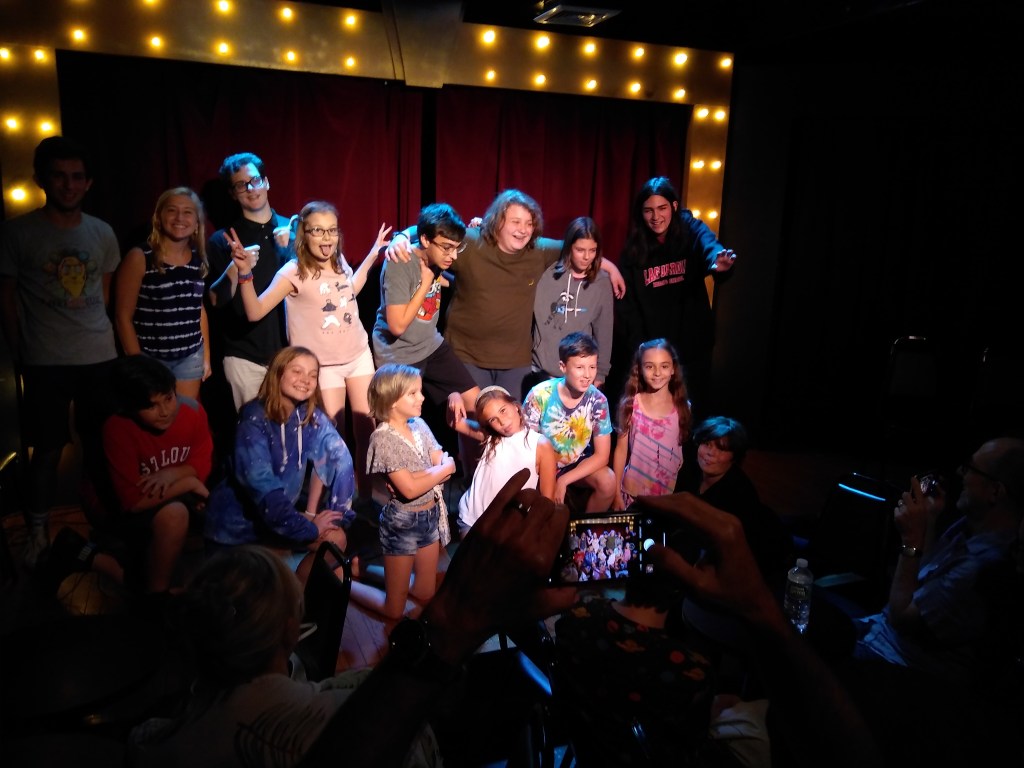 Every week we introduce new games, review class favorites and develop a new 2-3 minutes of stand-up comedy which get presented at our weekly showcase, Friday at 2pm.
Since 2003, Improv 4 Kids/Teens has been presenting shows and classes in Times Square NYC and touring schools, camps, and community centers nationwide.
Since 2011, our Comedy Camp and Classes have provided kids and teens a place to surround themselves with laughter while developing both professional level performance and valuable life skills (Creative writing, critical thinking, public speaking, self confidence, self awareness, leadership, team, listening and even empathy).
Every week is self contained with a performance showcase every Friday. Most campers join us for two to four weeks. A rare few practically move in, hanging out all summer.
Every day campers play improv comedy games, develop original stand-up and Sketch comedy and engage in mock performance.
Campers also get to perform weekly for invited guests, watch a professional show, and bonus classes in building a career in the arts, marketing, producing, video content (filming, editing etc).
Monday-Thursday 9am-4pm, Fridays dismissal after showtime (3pmish).
Staff
Want to join our staff. Become a TEENTERN. Teens with at least a year experience in our classes/camps pay only $200/week while training to be a leader of comedy classes, rehearsals and shows. We have many former teenterns, no home from college, working as Paid staff. Paid staff members are professionals from our company that performs off Broadway and at gigs (corporate events, team building, college/university and Educational Outreach). Check back regularly for upcoming auditions 3-4 times/year.
Andrea Hernandez Mieres, Lead Teacher
Andrea Hernandez Mieres, Member since 2019, is a Mexican & Spanish singer, actress and dancer. Originally from Mexico City where she debuted professionally on the Musical Theater scene in the Mexican Broadway versions of The Fiddler on the Roof and The Scarlet Pimpernel. This AMDA NY graduate, Andrea is venturing on the New York City scene. Andrea will be the head counselor this Summer at our camp and regularly teaches comedy, theater and music at our classes.
Walt Frasier, Artistic Director
In 2002 Walt Frasier co-Founded EIGHT IS NEVER ENOUGH Improv (aka LMAO Off Broadway, Absent Minded Comedy, Improv 4 Kids) and serves as the Artistic Director of the New York Improv Theater where he has performed 5000+ shows (producing 7000+) live from Times Square and touring nationwide. International TV credits include Pause with Sam Jay (HBO) Friends of the People (TruTV), Billions (SHO), Royal Pains (USA), Blue Bloods (CBS), Lilyhammer (NETFLIX), and Late Night with David Letterman (9 episodes). Plus shows on NICK, WE, MTV2, commercials, indy film…. On stage includes international credits in comedy, theater (Off Broadway, Festival, Regional and touring), opera, and music.